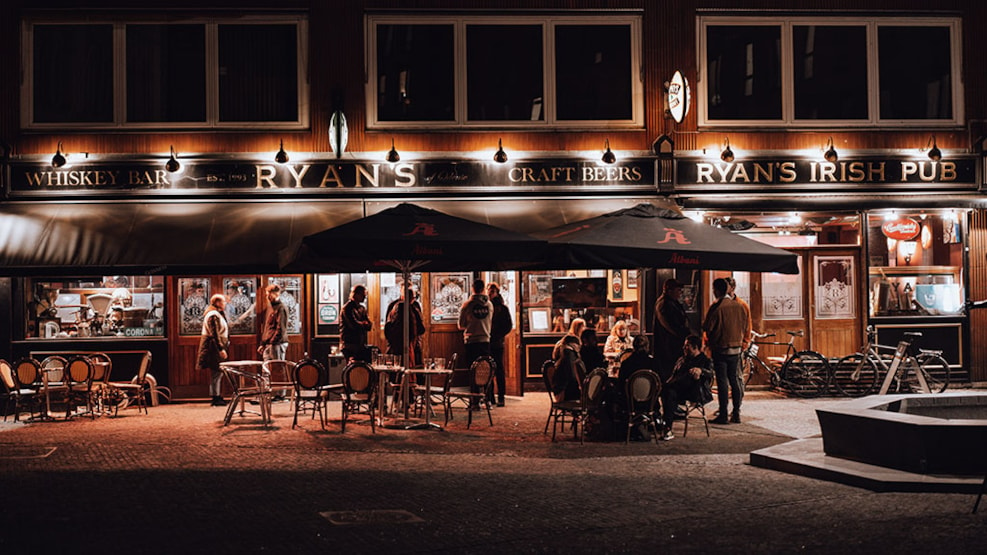 Ryan's Odense - Irish Pub
At Ryan's in Odense you are always welcome. Whether you want to drink an Irish beer, watch sports or have a bite of delicious food in Ryan's Street Kitchen.
Ryan's offers beer and hospitality
Ryan's Irish Pub is Odense's oldest Irish pub. At Ryan's there is a special focus on unity, responsibility, and joy. All of this is reflected in your experience at the pub, where you can come with your friends and enjoy a night of fun. It is obvious that Ryan's is an Irish pub, as the pub has many pictures and old artifacts from Ireland's original bars and pub environments. It is also iconic of the pub that sports are always shown on their many screens.  
Sports and pub grub at Ryan's
At Ryan's, sports are shown on several big screens, so there is plenty of opportunities to grab your friends under your arm and head into Ryan's for a good pint while you watch sports on the big screen. You can always check out the week's sports program and see  on Ryan's home page what they are showing. Besides sports, Ryan's also offers delicious pub food, also known as pub grub. For example, Ryan's Street Kitchen offers various fries with dip, spicy wings, fish'n'chips, multiple desserts, and much, much more. There is something for everyone, both in the kitchen and when it comes to the Irish beers in the pub.
Other options at Ryan's
At Ryan's you also have the possibility to rent a room or even the whole upstairs of the pub, should you want to hold an event at the oldest Irish bar in Odense. The upstairs can accommodate up to 80 people so that you can get everyone to your event. Ryan's also plays live music every Friday and Saturday. This contributes to a good and atmospheric atmosphere in the pub, so you can have a great weekend with your friends.
Part of Bargroup
Ryan's Irish Pub is part of the Bargroup group, which owns other pubs and is part of Storms Pakhus, and has a total of eight pubs in Odense. Bargroup started in 2011 and was founded in 2014 as a restaurant group. Their vision is that "you come as a guest, but leave as a friend". You will therefore always feel welcome at Ryan's.