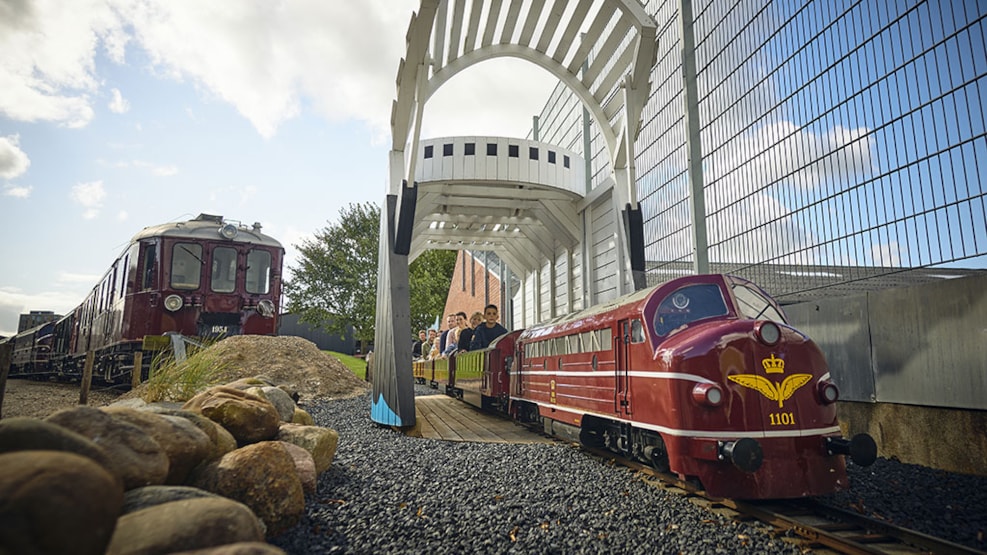 Summer at the Danish Railway Museum
Experiences for the whole family - a packed summer holiday programme at the Danish Railway Museum
The summer holidays are just around the corner, and at the Danish Railway Museum there are plenty of great experiences for the whole family. Ride on vintage trains, vintage buses and miniature trains. Hear stories about the red bullet train, the enormous E machine and see our turntable in action.
Hop aboard the vintage train
It's a very special experience for both children and adults when you stand close to a vintage steam locomotive. Every Tuesday, Wednesday and Thursday we whistle for departure and run a steam locomotive on the museum's own railway line. Traction is provided by the steam locomotive ODIN, which is a 1:1 running replica of Denmark's first locomotive from 1846. Every Saturday, we run with the vintage LNJ M 4 motor coach from the Odense company Triangel.
By vintage bus around Odense
Experience Odense with a coach from when grandad was a child. The vintage bus runs every Monday, Friday and Sunday during the summer holidays between 10:00-15:00. The veteran bus dates from 1966 and was in operation in Odense until 1987.
Tasks for the little ones with the Couplers
Great-great-great-great-grandfather Odin knows so much! He was Denmark's first locomotive and has seen steam locomotives, diesel locomotives and electric locomotives run on Danish rails. Odin wants to tell some of great-great-great-great-grandfather Odin's many exciting stories to the other Couplings, but he's not so good at remembering and needs your help.
A huge machine on rails, a turntable show and access to the red bullet train
Hear about the E-machine - a huge machine on rails and, as a special treat, we open the iconic red bullet train twice a day where the public is not normally allowed. Learn how the opening of the old Little Belt Bridge in 1935 and the introduction of the bullet train revolutionised railway operations in Denmark.
Experience the museum's large turntable in action. The turntable is still actively used at the museum when we move wagons or locomotives from one track to another.
Practical information
There are activities every day from 24 June - 13 August 9-17
All activities at the museum are included in the entrance fee
The café is open every day from 10-15.30
Children (0-17 years) always have free admission