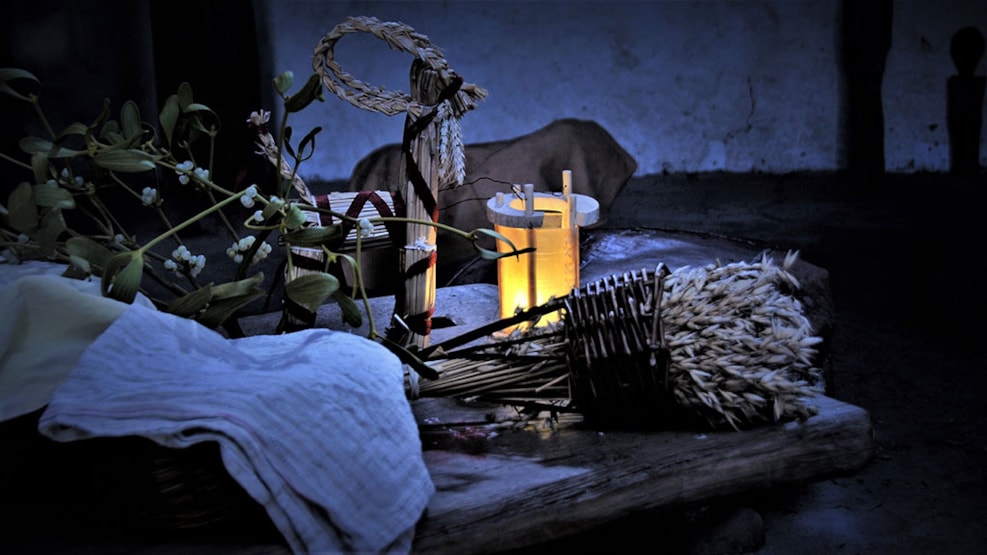 VIKING JÒL
Take a walk through the myth of Balder's death and let the lights tell you about the dark side of Christmas. Join our narrator on a candlelit walk after sunset, where we untangle the threads of time and find our way back to the traditions behind our modern Christmas celebrations.
Join us on a walk into mythology
While the day still reigns, you can join the nature guide on a hike "Between hibernation and folklore". Get close to nature as we show and tell about what's happening in the natural world right now, spiced with old superstitions about animals, herbs and natural phenomena. In the mornings, he'll take the children out to try their hand at finding nature's tiniest creatures and waking them from their hibernation. Afterwards, warm up with a drink at our mead-tasting event. Warm your toes by the crackling fire while you treat yourself to a cup of coffee and "Idun's hot slices" - apple slices "Viking style", i.e. baked over a fire.
Visit the runemaster and let the runes guide you in the new year ahead. Go on a Christmas mouse hunt with the kids and buy a Christmas basket full of creative fun for the whole family to make together in the various small workshops around the village. True Nordic cosiness in a quiet corner of the Iron Age Village where parking is not a problem.
PROGRAM:
10.00 Village opens
11.00 Animals in hibernation
11.30 Nature walk
12.00 Mead tasting
13.00 Nature walk
14.00 Meat tasting
15.00 Nature walk
15.30 Christmas walk
16.30 Christmas walk
17.30 Christmas walk
18.00 The village closes
The narrator's walk and the nature guide's walk last about half an hour.
Opening hours: Saturday 10-18 - Sunday 10-17
Tickets at the entrance: 75,- adults, 30,- children, children under 6 and members of the association free
Activity basket for the creation of pagan Christmas decorations 50,-