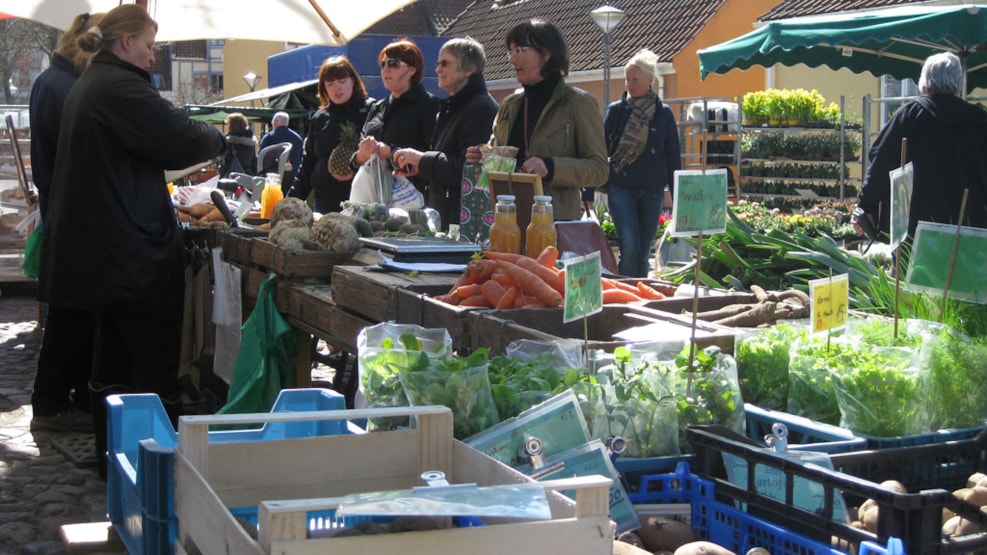 Biweekly Farmer's Market in Odense
At Sortebrødre Torv, right in the middle of the historical quarter and a few minutes walk from H.C. Andersens Hus, Bymuseet Møntergården and Odeon Koncerthus, you will find the market, which takes place twice a week, Wednesday and Saturday.
In the market, you can buy fresh vegetables, fruits, flowers and other seasonal ingredients. It is also possible to sample various cheeses, including the Funen speciality smoked cheese. You can also visit the fishing car most market days. The beautiful location right in the centre of Odense means that the market is always full of people. Winter means you get to meet the locals - in the summer, the city's guests are easy to spot. If you are looking for locally grown and caught food, make your way past Sortebrødre Torv. Some of the veggies and fruit on sale will be organically grown - others not. Check with the individual vendors before you buy. Usually you can visit the market between 8am and 1 pm.
In December, some market days change into Christmas market days, with lots of stalls selling Christmas ornaments, traditional sweets and so on. During summer, the Odense Symphony Orchestra sometimes entertains with a free concert.
NB If you want to rent a stall at the market, you can contact Gitte Albrektsen at ga@(odense.dk)