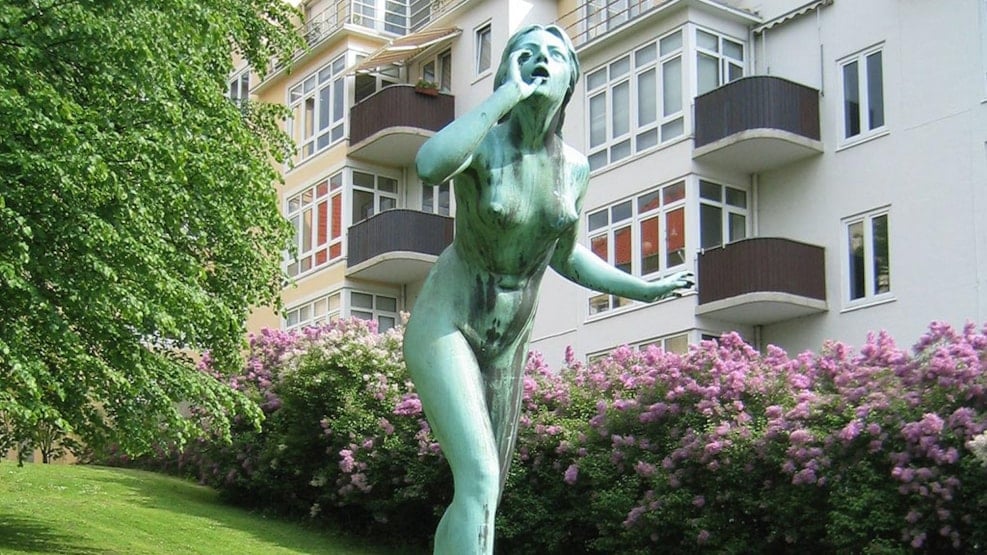 Echo - bronze sculpture
In Greek mythology, the mountain nymph Echo was known as the personification of the echo. According to Ovid, she was punished by Hera for delaying her with her chatter while Zeus was having an affair with another wood nymph. As a consequence, the talkative girl could only repeat what others said. She later fell in love with the young and handsome Narcissus, but when he rejected her, she was gradually reduced to a mere voice.
In Aksel Hansen's sculpture, Echo is depicted wandering around the forest calling out to Narcissus. The female figure exudes a delicate and ephemeral atmosphere that acts as a premonition of her fate.
The sculpture was installed in 1932 as the first in the series of sculptures in the Fairy Tale Garden. It was donated by chief physician Poul Guitdal, and an original plaster model can be found at Funen Art Museum.
Aksel Hansen (1853-1933) was a highly prolific sculptor. Born in Odense, he began his career as a woodcarver and stonemason with his father, before later enrolling at the Academy of Fine Arts in Copenhagen. His sculptures gradually evolved from a naturalistic style to the Art Nouveau style.