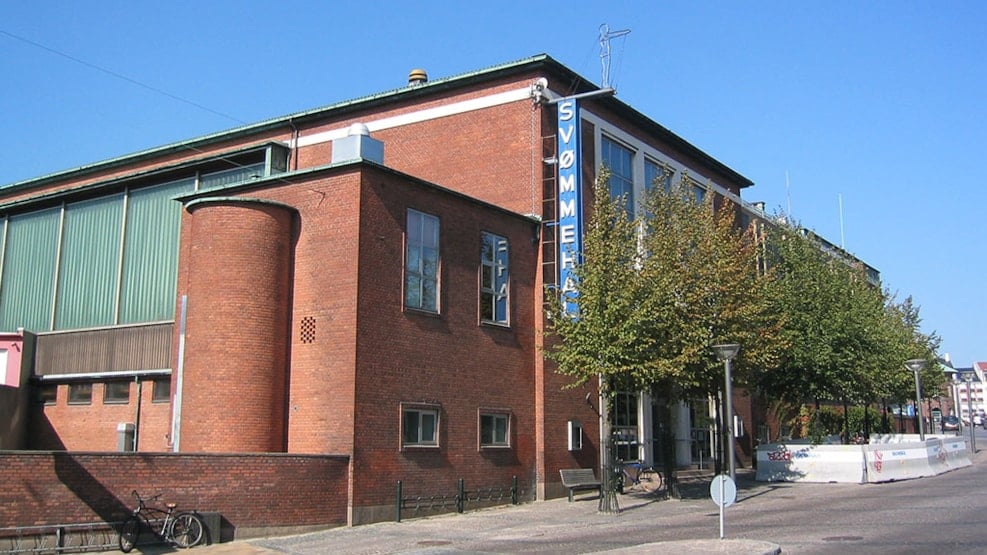 Klosterbakken public pool
The city's central swimming pool is located on Klosterbakken near the cathedral. The large red stone building was originally built in 1938, but was renovated in 2010 - 2011 for 24 million and is today a nice and modern swimming pool.
There are lots of facilities for the guests of the swimming pool, including:
An exercise pool of 25 x 12 metres with water depths from 0.9 to 3.05 metres. There is also a 1-metre springboard in the hall. The water temperature is 27°C.
A relaxation balcony with steam sauna (temperature 47°C and humidity 90%), health cabin with infrared heat, bio sauna (temperature 57°C and humidity 40%), jacuzzi with 34° water, regular sauna (temperature 80°C and humidity 10%) and two comfortable sun loungers. You need an extra ticket for the Relax Balcony. It is available at the same place as the ticket for the swimming pool.
A gym which is available to all guests in the swimming pool. There are exercise bikes, TRX equipment, rowing machines, back and shoulder training, step machines as well as ribs, exercise mats and balls.
The swimming pool often organises events such as wellness evenings with themes, aqua fitness and similar. You can also book the pool for a private event, such as a bachelor/bachelorette party or wellness evening.
Practical information:
Please remember a padlock for your locker in the changing room. You can see what type of padlock you can use on the swimming pool website.
You can buy tickets from the vending machine in the lobby. You can pay by credit card or MobilePay. Unfortunately, cash is not an option. The ticket is a wristband that you have to wear until you leave the swimming pool.
You can also buy a ticket at Nembillet before you arrive. Your Nembillet is a QR code that you scan at the ticket machine when you arrive.
If you forget something, please drop by the pool during opening hours. Unfortunately, it is not possible to call or email.
There are lifeguards at the pool to help you if you get lost.
Children are welcome in the swimming pool without an adult when they are at least seven years old.
Have a nice trip to the pool