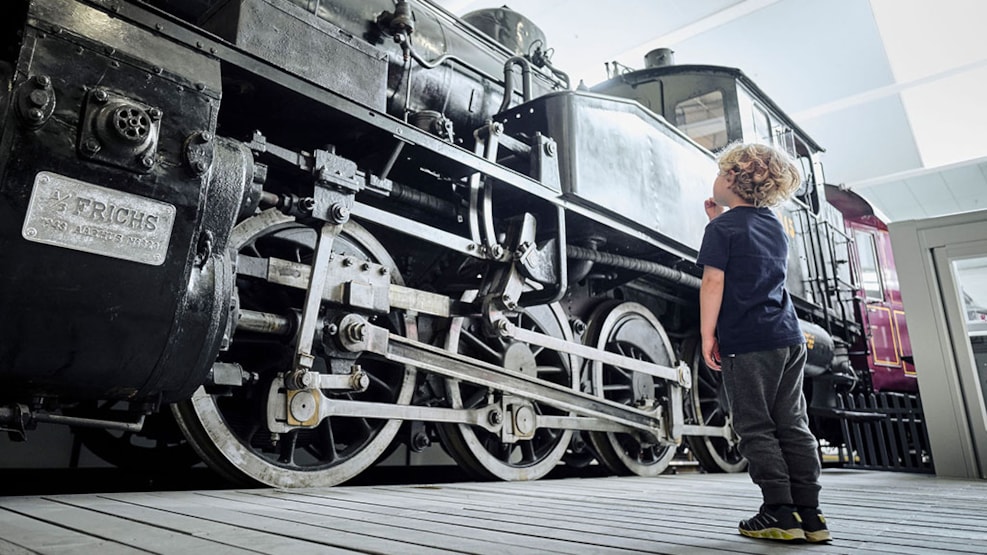 The Danish Railway Museum
The Danish Railway Museum is located in the centre of Odense and is an ideal destination for the whole family. Feel the history as you get up close and personal with the large locomotives and beautiful old carriages.
Let your imagination soar and play engine driver in the cabs of the impressive steam locomotives.
Take a seat on the uncomfortable benches in the old passenger carriages, peek inside the royal saloon carriages and admire the snow plough from back in the days of ice winter. You can also set the little model trains in motion and study the fascinating ferry models.
Hop aboard the mini train
At the Danish Railway Museum we have our own miniature train. The mini train takes you through the Danish cultural landscape and past child-sized railway history environments. The train departs several times a day
Experiences for the little ones
Younger visitors will love the Locomotive Master Bus's workshop and the Children's Railway Station - a child-sized railway station with a ticket office, control tower and space to play. Also visit the outdoor playground where you can explore the large steam locomotive and slide from the top of the water tower.
Ride a vintage train
It's a very special experience to stand close to the steam locomotive, enveloped in smoke, steam and the smell of coal. At the Danish Railway Museum, we have our own railway tracks and station on the museum grounds. You can take a trip on the vintage train on selected days throughout the year. We operate both railcars and steam trains. Rides at the museum can be seen on our website under "Activities".
All activities at the museum are free of charge. Children under (0-17 years) always have free admission