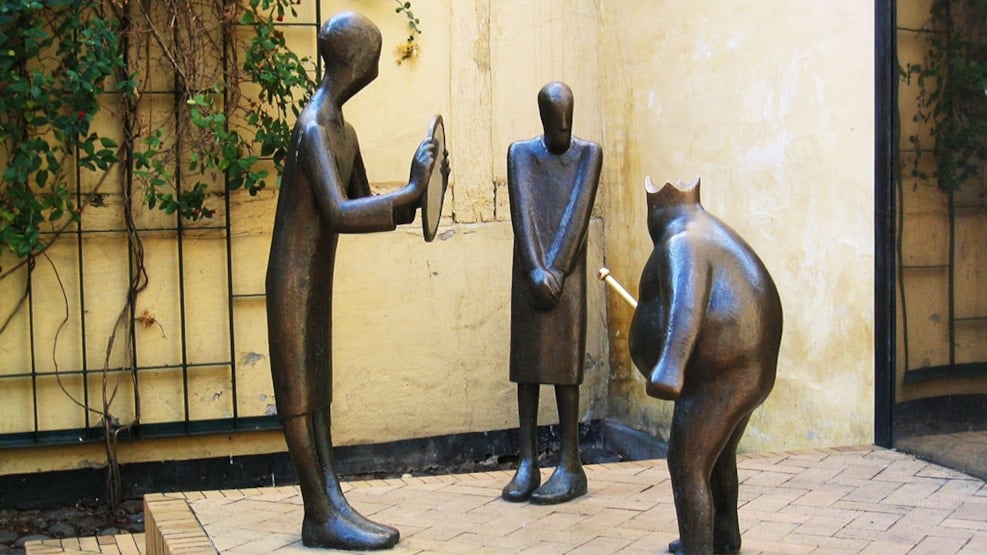 The Emperor's New Clothes
Keld Moseholm's (1936 -) sculpture is based on the fairy tale "The Emperors new Clothes" and you can almost hear the small boy yelling "But he hasn't got anything on", as the emperor looks at himself in the mirror.
The sculpture shows the emperor with his crown and sceptre, the tailor and a representative from the royal court, all looking at the emperor's new clothes. If you look closely at the emperor's posture, you can sense a bit of a fright, as he cannot see the cloth and therefore thinks he must be stupid, according to the two swindlers, who created the clothes.
The sculpture is made in bronze, on the wall a great mirror is placed which is made from stainless steel and all placed on a three-step high base of stone. Keld Moseholm is known for his small, round figures, who often find themself in a helpless situation against nature or power. It is no accident, that the emperor is shown in this shape, as he is fighting his own vanity.
Fun fact: This sculpture was revealed in 1988, as the first of a series of sculptures inspired Hans Christian Andersen's fairy tales.
Keld Moseholm graduated from the Funen Art Academy as well as the art academy in Copenhagen, where he was the apprentice of Gottfred Eickhoff. Since the 1980s, he has created several pieces with the characteristic small, round figures. The mix between the unmanageable task that man is facing and the friendly, humorous and little bit satirical expression has made them very popular.