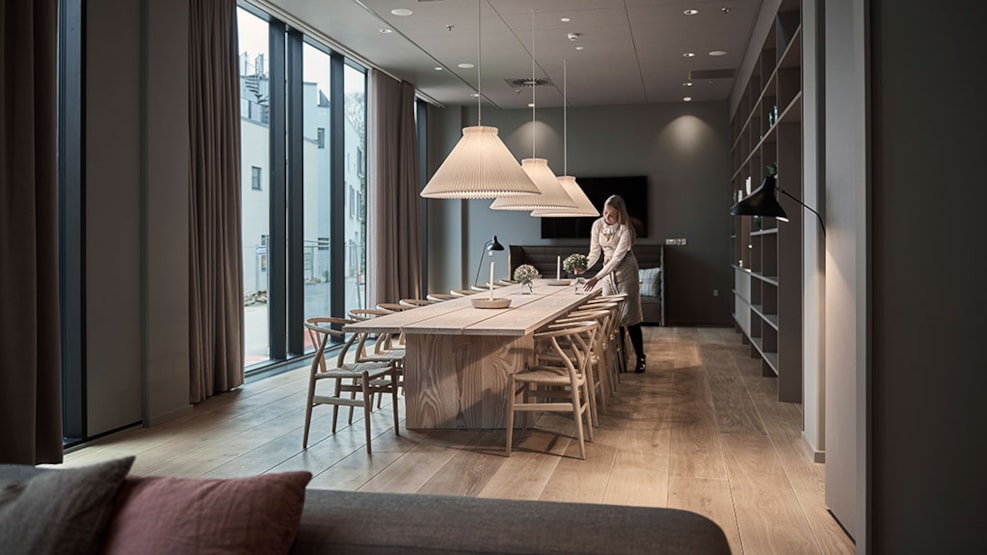 Hotel Odeon - Conference Venue
Exclusive meeting rooms in the centre of Odense
Hotel Odeon is the place for you who want to meet in the heart of Odense. Meet each other in a setting that combines modern Scandinavian design with homely cosiness and warmth.
Just a stone's throw from Odense Railway Station Center, you will find Odense's newest and best-reviewed hotel - with several beautiful meeting rooms filled with opportunities. You can park in the underground car park directly below the hotel, and the lift leads directly to the hotel lobby. Your meeting catering is prepared in our own restaurant H.C. by Meyers, and is exactly as fresh, delicious and inviting as you can expect from Meyer's talented chefs.
Hotel Odeon offers four unique, exclusive and fully equipped meeting rooms. Do you have participants from far away? With a video or hybrid meeting, you get the benefits of meeting physically, without having to gather all meeting participants under one roof. We ensure you a perfect picture and sound for the video meeting with our Poly Studio Video Bar and large flat screens in the meeting rooms.
Our experienced team is with you all the way and ensures that you get exactly the event you want.
Hotel Odeon is an oasis in the vibrant downtown H.C. Andersen Kvarter, close to shopping, sights and restaurants. The design hotel focuses on quality, cosiness and a relaxing atmosphere. Enjoy the coffee break or your after-work drink in the hotel's beautiful lounge, lounge bar or in the restaurant H.C. by Meyers. Here you get to put the last touch on a productive day - in a cosy setting and good company.