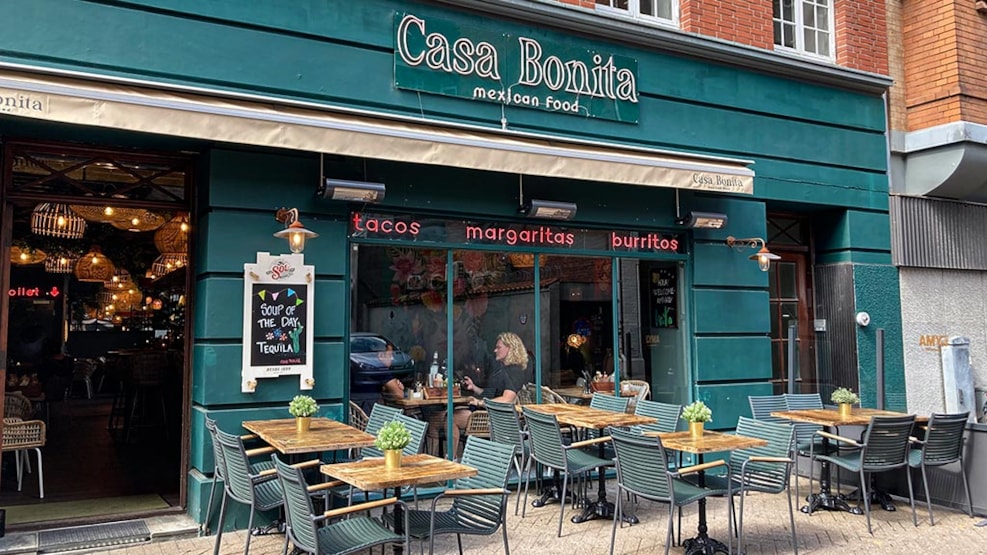 La Casa Bonita
At La Casa Bonita, you'll get a very special food experience in Mexican cuisine. The restaurant serves a variety of delicious Mexican dishes and cocktails for everyone's taste. 
A Mexican restaurant
In the heart of Odense, you will find the small cozy Mexican restaurant La Casa Bonita. The restaurant serves delicious, homemade Mexican food in informal and cozy surroundings. The decor of the restaurant is inspired by the barefoot area of Tollum in Mexico. The decor consists of calm colors and green leaves and Frida Kahlo posters embellish the walls. All of this is contributing to a unique, cozy, and comfortable atmosphere. Enjoy authentic soft corn tortillas with an ice-cold Corona at the bar or take a seat in the restaurant's comfortable chairs and enjoy an exciting selection of Mexican dishes, authentic sides, and great cocktails.
The menu
The menu at La Casa Bonita is versatile and prepares the ground for sharing the food. Long-braised welfare beef, delicious lamb, and deliciously marinated chicken are important components of Mexican cuisine, but there are also great options for vegetarians, vegans, and those with gluten allergies. In addition, the restaurant makes homemade fermented chili sauces, which range from mild to hot. In general, the kitchen has a strong focus on both flavor and exotic aromas. At La Casa Bonita, you can get everything from ceviche to quesadillas to a variety of tacos.
A cozy evening
At La Casa Bonita you are guaranteed a cozy and atmospheric evening with good food and good service. The restaurant serves Mexican food in a very exciting way, where several dishes can be combined, so you can try many different Mexican dishes. In addition, the service is top-notch with a smiling staff that revolves around their guests to give them the best Mexican experience. At La Casa Bonita you can always get a table, as they never book all tables in advance. So, if the desire for a quality meal or a delicious cocktail should arise, do not hesitate to drop by the restaurant. At La Casa Bonita you are guaranteed a unique Mexican experience, with a great atmosphere and good food.