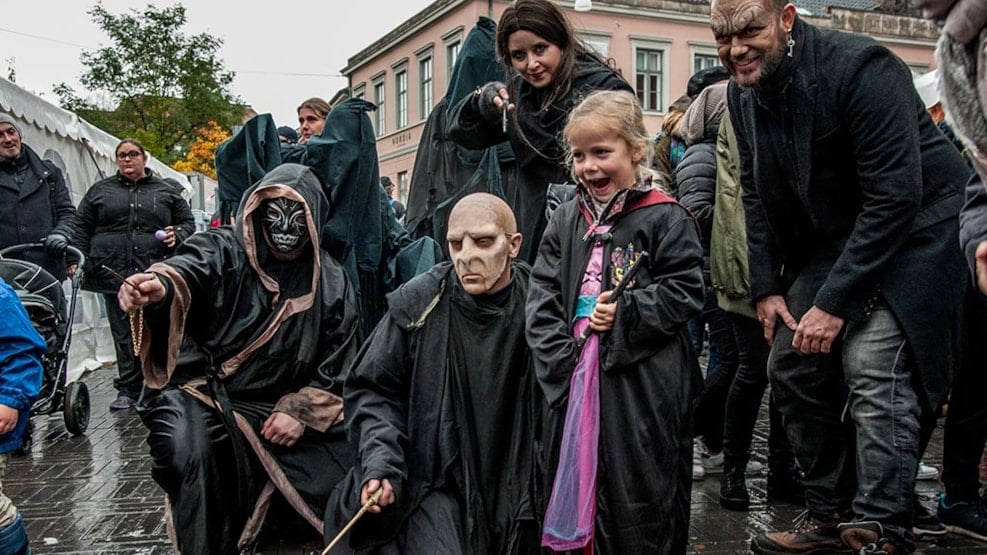 Magic Days Fantasy Festival
Magical Days is Odense's fantasy festival for the whole family. Make your own magic wand, potion or experience the many other magical activities.
Autumn holiday activity
If you're into mystery and magic, knobbly trolls and high-hatted wizards, then the Magic Days Festival is the place to be in the autumn holidays. Magic Days is a fantasy festival that offers a lot of wonderful and magical experiences for the whole family. The festival also doubles as a town fair, where almost all activities are at street level in the city centre, transformed into one big magical world. You don't have to worry about admission, although you should be aware that some activities at the festival require a ticket or advance registration.
Activities for the whole family
Are you an aspiring witch or wizard? Magic Days is your chance to make an awesome wand or brew your first magical potion. Or maybe you've heard of Harry Potter and dream of playing real wizarding sports on a flying broom - you can do it here at the festival! Whatever activities you fancy this autumn, you can certainly satisfy your cravings at Magic Days.
Programme of the festival
The programme of the festival changes from year to year, but some activities take place every year. You will encounter activities like creating your amulets, making jewellery, going on magical sound walks, tasting delicious pies, folding paper kites and more. There's something for all the family, whatever your age. All you have to do is be ready for some fun days this autumn! You can see the programme at www.magiskedageodense.dk. 
A sprinkling of magic for Odense's urban spaces
Magic Days wants to add a sprinkle of magic to Odense this autumn. The Odense Libraries, in cooperation with other actors, are the organisers. Local culture is at the heart of the festival, which relies heavily on volunteers and cultural institutions around Odense, drawing links to well-known and new children's and young adult literature. Literature is a common thread through the many magical activities, which offer interactivity, involvement and play. So if you want to delve into the world of imagination and magic, you and your family should visit Magical Days during the autumn holidays.