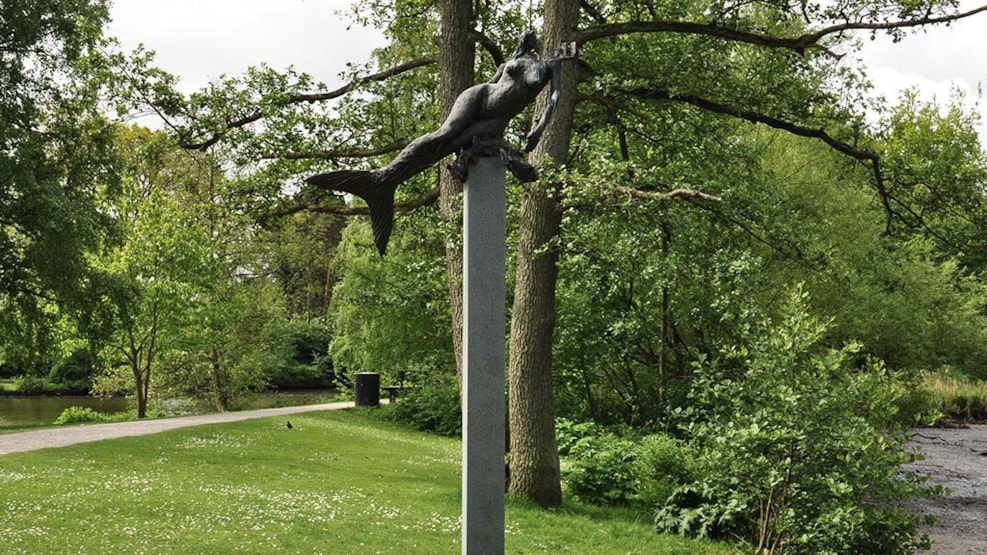 The Mermaid - Sculpture
The mermaid is a mythical and magical creature, who lures people into their death with her song and her beautiful body.
This mermaid is placed on a 3-4-meter-high base so that we view her as from the deep of the ocean. Another distinctive feature of the sculpture is the abnormal head-to-body ratio, but this is a consequence of the water reflection which happens when you look up from the depths.
The sculpture is made in bronze and the base in granite and was revealed on June the 20th in 1998. The mermaid's body is created to show sexual energy, which is emphasized by the slightly separated legs and distinct sex, that only gathers into a fin near the feet. The strength of its sexuality is highlighted as something raw, and a danger you put yourself in. The sculpture is, in its expression, almost an antithesis to the traditional understanding of the mermaid's conventional innocence and beauty.
Hans Pauli Olsen (1957-) was born in the Faroe Islands. Many of his sculptures focus on human forms, often with a mystical, underlying note. They are expressive and naturalistic in their expressions. Many of his creations are created in clay before they are cast in bronze. This process allows the artist's creative process to be clearly visible in the final sculpture.