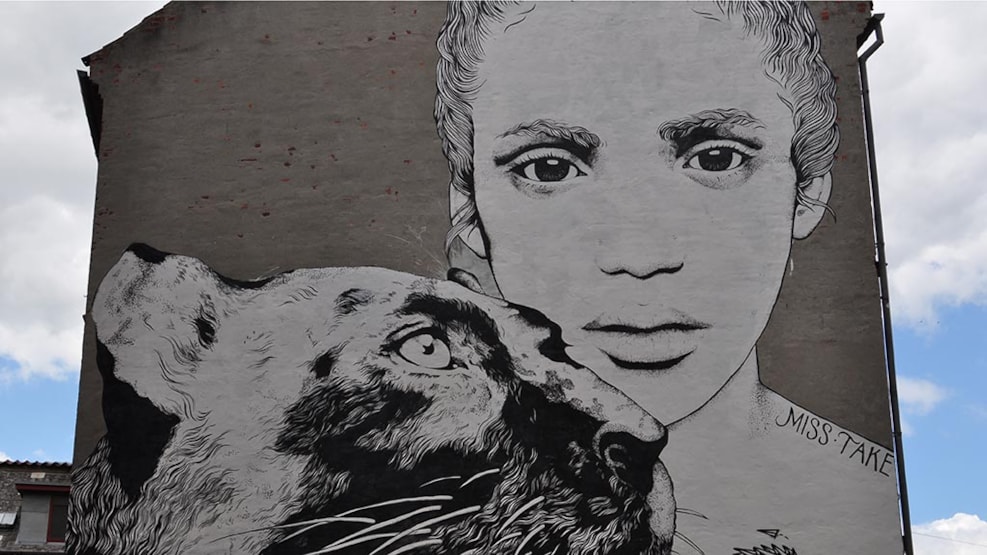 Miss Take's mural by Brandts
The Girl and the Panther is a mural by a Copenhagen street artist who participated in an exhibition at Brandts in 2012.
The mural "Girl and Panther" is an impressive piece of art that adorns a gable in the heart of Odense. Painted by the talented artist Miss Take, this mural has become an iconic and inescapable element of the city's art scene, capturing the viewer's attention with its rich detail and powerful message.
The painting depicts a young girl standing with a majestic panther. The girl exudes strength and confidence as she meets the viewer's gaze with calm trust. The painting is monochromatic, which makes it blend in well with the other buildings, while also standing out.
Visitors wishing to view the artwork can find it in Brandts Passage, where it adorns a large gable that can be seen through the windows of the Brandts Art Museum. There are many other gable murals in Odense, but Girl and Panther is probably one of the best known.