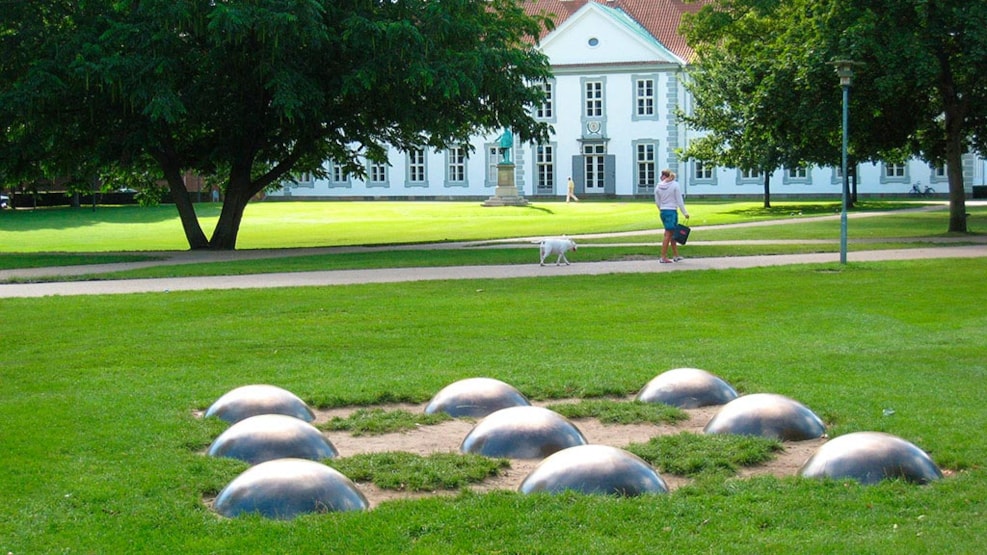 NineNow, sound sculpture
The sculpture consists of 9 units of 80 cm in diameter - 20 cm in height that look like halfburied metal balls. The sculpture is a sound installation. In nine different languages and every second, the word "now" sounds.
The word almost jumps around between the nine points growing out of the grass, emphasising that the moment is fleeting. The sculpture invites you to experience it with your body. You can move around it and experience it with your body, and thus also experience that the sound jumps faster than your body can follow it. The sculpture was installed in 1993 and the King's Garden would not be the same without it.
Eva Isobel Koch. (1953-)
Eva Koch was educated at the Academy of Fine Arts in Copenhagen. As a sculptor, she worked mainly in the late 1980s and early 1990s on series of sculptural blocks that invite dialogue with the work and often have the temporal as an element.