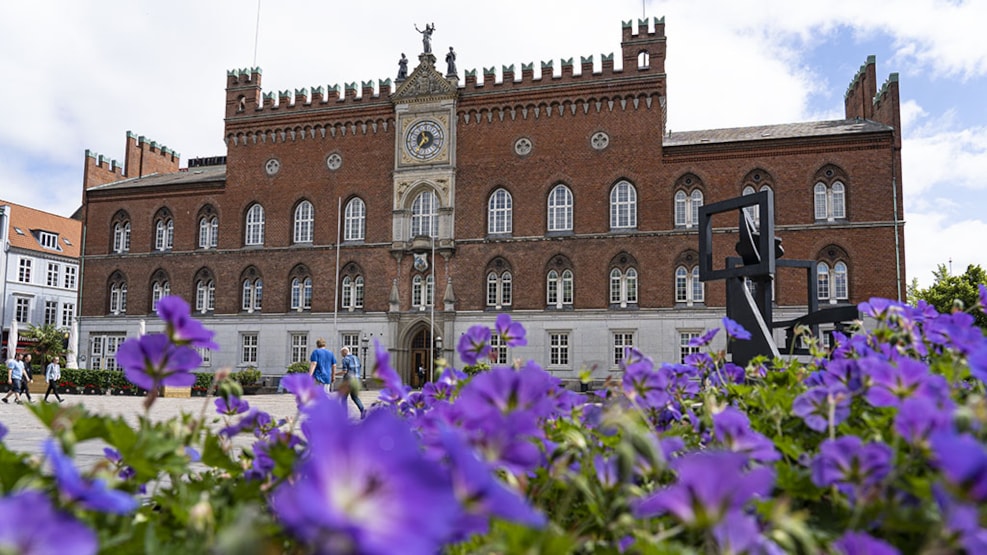 Odense City Hall - built 1881-1883
The Town Hall, which owes its Italian-Gothic lines to the two architects Herholdt and Lendorf, was built in the 1880's.
It was erected on the same side where Odense's oldest, much smaller, though much more attractive Town Hall had stood for 400 years. Architecture, too, has its changing fashions, and the old Gothic Town Hall from 1480 was no longer considered attractive. In fact, it was viewed as downright ugly.

The Town Hall today
The Town Hall, as it stands today, has an added extension designed by the architect, B. Helweg-Møller, in 1937.
The construction of this extension was a difficult task. Part of the old building, namely the section facing Flakhaven, was to be left intact. A large, new building, in the simpler style of the period, was integrated with the old.
To add to the problems, the war came and delayed the realisation of the building plans.
In 1942, the tower behind the main entrance was torn down. After that, the reconstruction work stood still for several years. It was not until 1955 that the new Town Hall was inaugurated. The inauguration took place on 2 April, the 150th anniversary of the birth of Hans Christian Andersen.