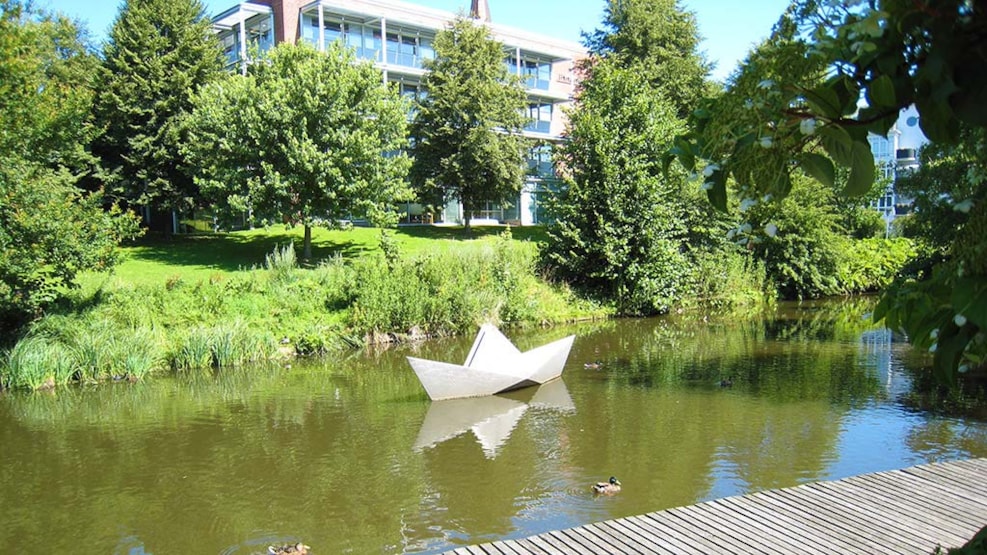 The Paper Boat, Sculpture
The boat, "sailing" in the lake in the Fairytale Garden, often makes visitors think of the tale of the Steadfast Tin Soldier.

In the tale about the one legged tin soldier, who is hopelessly in love with a ballerina, two boys find the tin soldier on the street: "Look, there is a tin soldier, let us make him go sailing." And so they did, in a boat made of a folded newspaper, they sent the tin soldier sailing in the gutter.

Despite its name, the paper boat is made from matte stainless steel and was bought in 1984, after an exhibition in the Fairy Tale Garden. Actually, this sculpture is a copy of one of Erik Heide's other creations, named "The boat in memory of the ferry service to and from Mors". The only difference between the sculpture in Odense and the one found in Nykøbing Mors is the material. The one in North Jutland is created in Corten steel and placed on land, the Odense based version is stainless steel and placed in Odense river.
Erik Heide (1934-) is a self-taught sculptor and is recognised for his church decorations. In quite a few modern churches, he has been responsible for the entire decoration of the church room, from alter table to crucifix. He mainly works with wood, granite and cast iron.