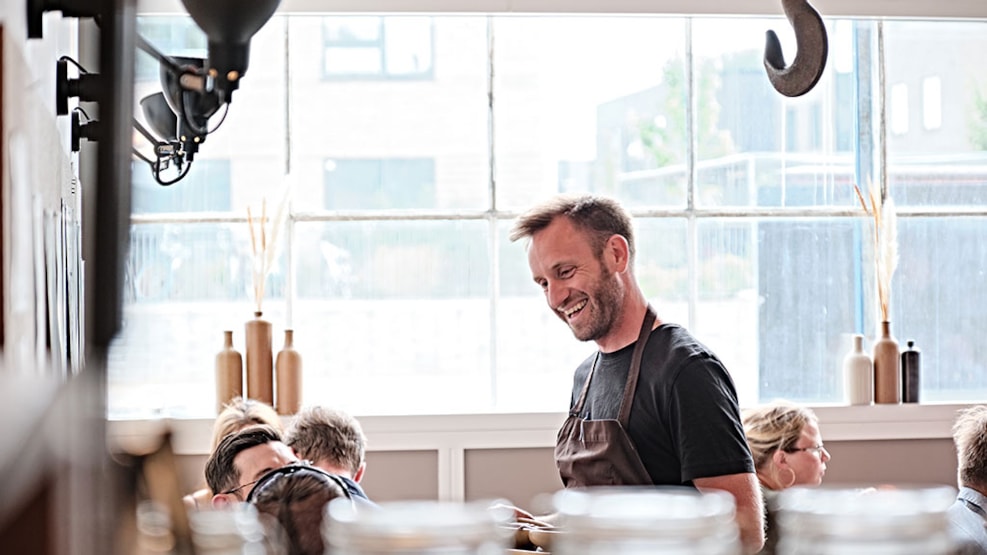 Restaurant Aro - Michelin Restaurant
At Restaurant ARO you are guaranteed a truly fantastic culinary experience. Guests are catered for when gourmet food is served in informal surroundings.
The restaurant
At Restaurant ARO you are guaranteed a truly fantastic and unique culinary experience. The chefs at ARO describe the restaurant as an actual workshop, where the chefs work like craftsmen, with a focus on good craftsmanship. The chefs at Restaurant ARO work ambitiously with the best ingredients available, guaranteeing you a top-class culinary experience. In addition, the restaurant has a clear goal for how they want to run the restaurant with various raw produce: they aim to be self-sufficient in meat and vegetables depending on the season. Therefore, you are also assured of fresh and local ingredients that fit the season.
Menus
At Restaurant ARO you can choose between three, four, five, or seven courses. You can also select one of the two menus: "Small ARO", where you get five courses with snacks, bubbles, wine menu, and coffee and sweets, or "Large ARO", where you get seven courses with snacks, bubbles, wine menu, and coffee and sweets. These menus make Restaurant ARO the perfect place to celebrate various events in your life and your loved ones. In addition to these menus, ARO also has a very large wine list where you can choose from many different whites, orange, rosé, red and sweet wines. You can also choose to have various cocktails, bubbles, and ciders.
The experience
When you bring your loved one, your friends, your family, or someone else to Restaurant ARO, you will have a very special experience. Restaurant ARO consists of two chefs, Bjørn Jacobsen and Christoffer Schärfe. Before ARO, the two chefs have been chefs at other respected restaurants such as Geranium, Le Sommelier, D'angleterre, Pluto, Tesuya in Sydney, and WD50 in New York. The two chefs thus have a lot of experience in the culinary field and are very ambitious in creating food experiences for their guests. The atmospheric surroundings in which the restaurant is located also do their part in creating a unique experience for you. The restaurant is located in the old machine factory in Østerbro, which is a bit hidden away from the road. This helps to create an overall experience, where gourmet food is served in an informal setting.