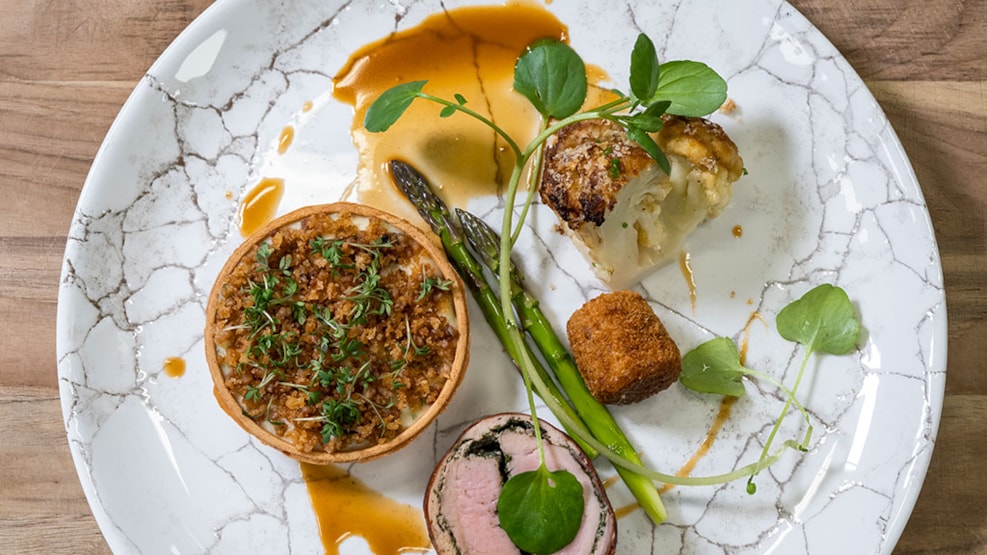 Restaurant Fionie
At Restaurant Fionie, you get traditional French cuisine made with the best Funen ingredients, creativity and love of food.
The restaurant is built on old apple orchard land, and it is natural for them to focus specially on the Funen vegetables and leave meat a little in the background. Therefore, they can offer high quality at a reasonable price - and when there is meat on the plate, it is naturally from some of the best producers on our green island. It is also no coincidence that the restaurant bears the name "Fionie" - it means "Funen" in French.
Manning the pots, you will find a strong team of skilled chefs led by Executive Head Chef Morten Kristensen. Morten is a Jutlander in exile, trained at Radisson Blu in Aarhus and with Michelin restaurants in Copenhagen and London on his CV. Over the years, he has worked as a chef in Denmark and abroad - most recently at Chateau de Fontager, just outside Lyon in France.
Try Restaurant Fionie's changing monthly menu that includes wine, snacks and bubbles for the neat sum of DKK 395 for two dishes or DKK 495 for three courses. You can also eat á la carte for lunch and dinner. Choose from classic café dishes such as caesar salad, smoked salmon, club sandwich, steak bearnaise and burger. You can also bring the little ones to eat at Restaurant Fionie - they can choose from several dishes on the children's menu.