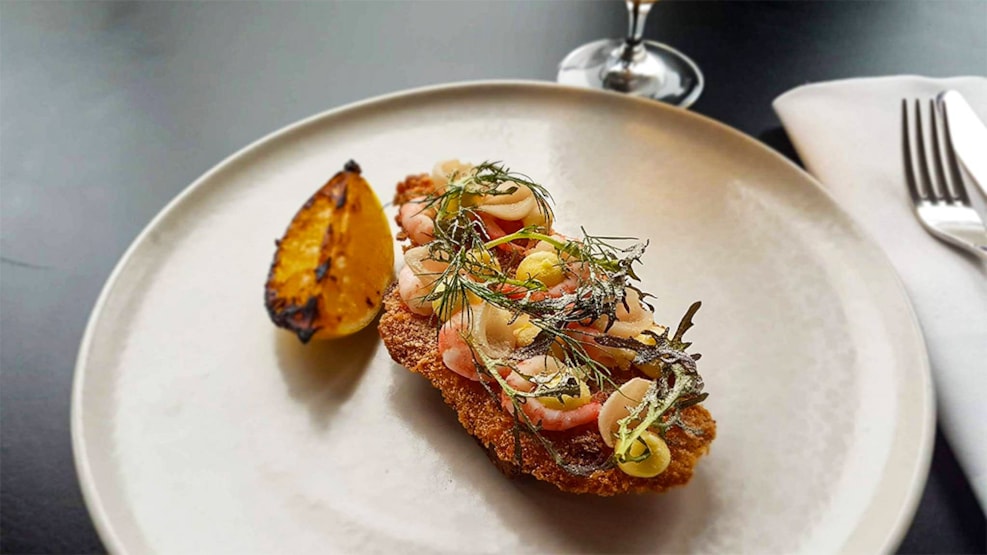 Restaurant H.O.S.
At Restaurant HOS, you are guaranteed a fantastic dining experience in a cosy and atmospheric setting. Here the team invites you in for an amazing lunch.
About HOS
Michelle and Jakob are the forces behind Restaurant HOS with the unusual name; HOS: a contraction of their surnames, Hemme and Spolum. Restaurant HOS lies in the heart of Odense, and here you can enjoy the most delicious food, where local ingredients are the basis of the kitchen. The eatery opened in February 2019, and although it has only been around for a few years, it has already made a big name for itself in Odense. At HOS, they prioritise using local, organic ingredients, with all gourmet food made from scratch. So if you're looking for a critically acclaimed eatery, head to Restaurant HOS.
Hemme & Spolum
Michelle Hemme and Jakob Spolum are a trained waiter and chef, respectively, and they're the ones who started up the delicious Restaurant HOS. Michelle is a trained waiter from Sortebro Kro and a trained sommelier from the Danish Sommelier Academy. She has also worked as a restaurant manager at Kok & Vin and Ruths Hotel in Skagen. Jakob is an apprenticed chef from Ruths Hotel, was a sous chef at Munkebo Kro, and has been head chef at Pasfall and Ruths Hotel. He has also been part of the Danish national culinary team and has participated in many cooking competitions. In other words, you will get a fantastic and tasty experience at Restaurant HOS.  
Lunch at HOS
If you're looking for the best lunch spot in Odense, you've found it at HOS. Here, they offer open-face sandwiches and hot lunch dishes, and you are sure to get a tasty experience beyond the ordinary, as the staff have a burning passion for great food. When you order an open-face sandwich, you can get everything from rosehip-marinated herring to smoked mackerel to hand-pickled prawns - depending on the season. In addition, you can also get warm lunch dishes. In the summer months it could be a patty of summer buck, roasted fish of the day and much more. Cheese and sweets are also available, should you be tempted after lunch.
Evening at HOS
On weekends, Restaurant HOS opens up its evening menus, where you can get the "Small Menu" or a "Large Menu" consisting of 4-8 dishes. When you go to Restaurant HOS at weekends in the evening, you are guaranteed a fantastic menu of seasonal dishes, and thus the best taste. HOS has put together a wine menu that matches the seasonal dishes. You can choose the regular wine menu, which are great wines for the price, or the prestige wine menu, which elevates the dishes even higher.