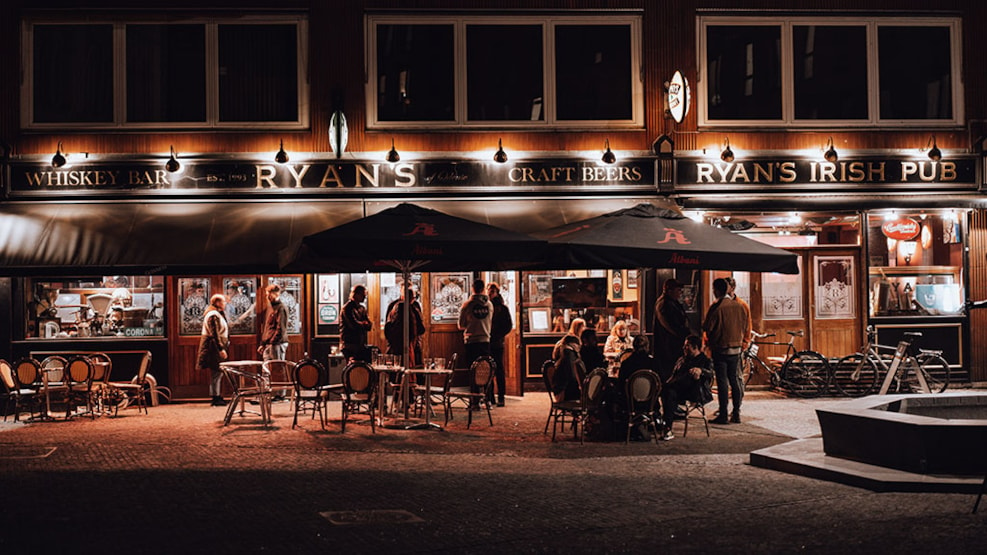 Ryan's Irish Pub
Ryan's is Odense's oldest Irish pub - one of the oldest in the country, in fact - and there's no doubting the sense of belonging; Irish music pours out of the speakers, and the pub's walls are lined with pictures and artefacts from Ireland's original bar and pub scene.
At the bar, you'll be greeted by our knowledgeable bartenders who can guide you through a wide selection of beers, ciders, cocktails, coffees and more, as well as an exciting range of Irish beers and whiskies. Ireland is known for its rich musical tradition, and on Friday/Saturday nights you can enjoy live music that creates an intimate and vibrant atmosphere in the pub, inviting you to dance and chat.
Ryan's also hosts live sports on several big screens throughout the week, so there's no excuse not to grab your friends and enjoy a cold pint while cheering on your favourite team.
Should you get hungry, Ryan's Street Kitchen also offers delicious pub food, including brunch, lunch and dinner menus, which you can enjoy in the pub in a relaxed and informal atmosphere or take away.
Friday bar and Gameday
On the first Friday of the month, Ryan's hosts a Friday bar with early live music and all-time favourites from 16:00-18:00. On Thursdays we host Gameday at Ryan's from 20:00-00, where you can compete in various games against your friends or other teams to win points that you can redeem for alcohol at the bar - for free!