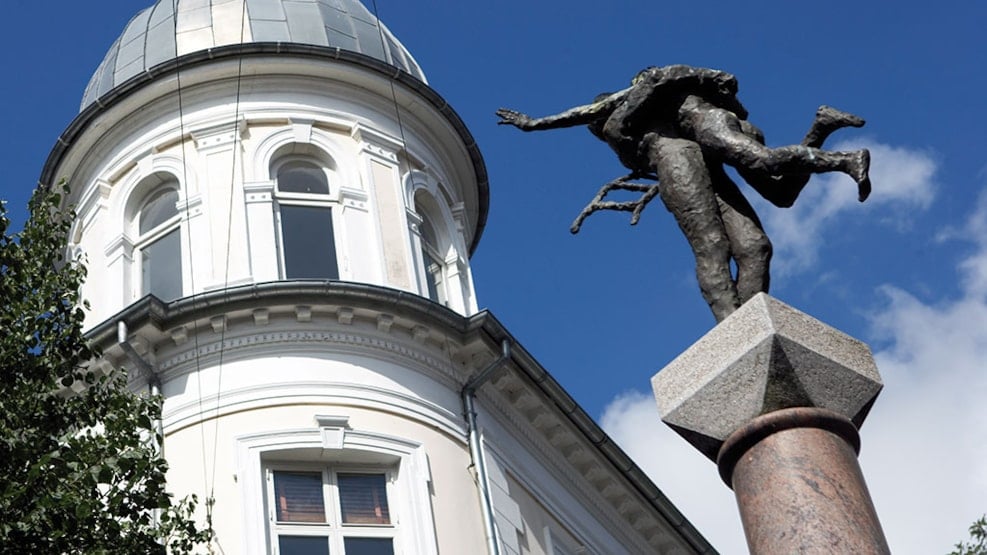 The Shepherdess and the Chimney Sweep
Placed on a 5 meters high plinth, the Shepherdess and the Chimney Sweep are ready to take on the world.
The tale about the shepherdess and the chimney sweep is, just as other tales by Hans Christian Andersen, based on the romance between two household objects. Unlike other fairy tales such as "The Steadfast Tin Soldier" and "The Sweethearts", this one ends in a happily-ever-after moment.
The shepherdess and the chimney sweep are shown on the roof of the house, just as they emerge from the chimney. They are naked, with only the ladder referring to his profession as a chimney sweep. The other characters from the fairy tale; the old Chinaman and "General Headquarters-Hindquarters-Gives-Orders-Front-and-Rear-Sergeant-Billygoat-Legs", are placed at the foot of the base.
The base is made in granite, where the two lovers on the top are made with bronze.
Fun fact; The sculpture was revealed on June 17th 1995, however, after only 6 months, a truck drove into the base and destroyed the artwork. It was of course restored and put back in its spot.
Bengt Pontus Kjerman (1954-) was born in Goteborg, Sweden and is a Danish-Swedish sculptor, painter and lector at The Royal Danish Academy of Fine Arts in Copenhagen. Kjerman's personal style is often described as realistic, but at the same time unrealistic, with references to fairy tales, myths and folklore.