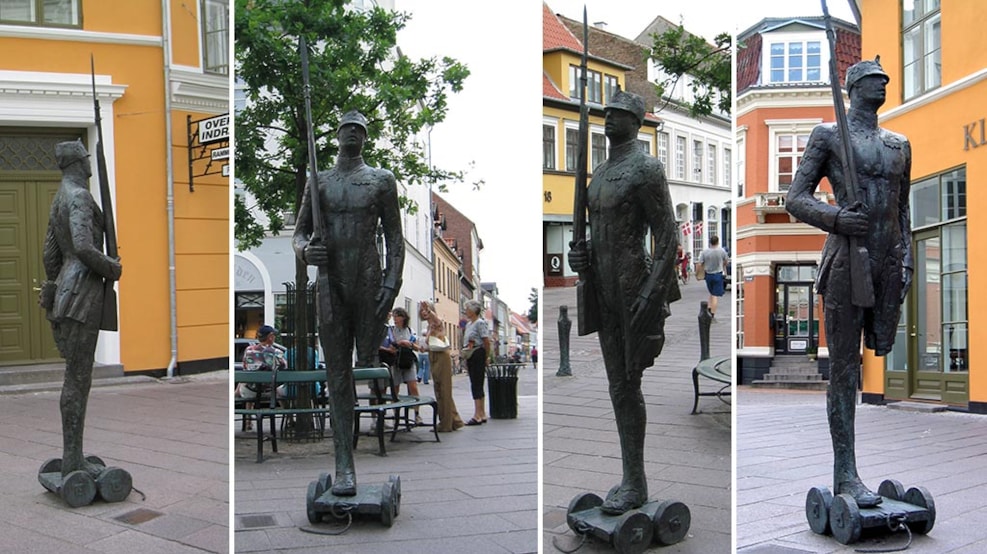 The Steadfast Tinsoldier
This is another take on one of Hans Christian Andersen's favourite themes; the romance between two inanimate objects. The one-legged tin soldier falls in love with a paper ballerina, and just as the toy is humanized through his adventures in the author's tale, so the artist behind the sculpture tried to depict him. This sculpture was the seventh in the series of fairy tale sculptures in Odense.
The tin soldier is quite large, compared to his counterpart in the tale. However, Madsen has placed the soldier on a pushcart to emphasize that this is, in fact, a toy. The sculpture is made in bronze and is surrounded by several other smaller "soldiers".
Fun Fact: Look closely at the gun, which the soldier is holding. Madsen was against guns, so he created this sculpture holding a rifle, which in real life, could never be used.
Also, look closely on the small soldiers surrounding the plaza. When he created them, Madsen placed a tiny gummy bear in the cast – perhaps you can find it on the figures.
Eiler Madsen (1939-2011) was a sculptor who often worked in bronze. He often worked with themes such as mythological or religious subjects. You can find other works by Eiler Madsen in Odense, among them Ikaros in front of Odense Theatre.