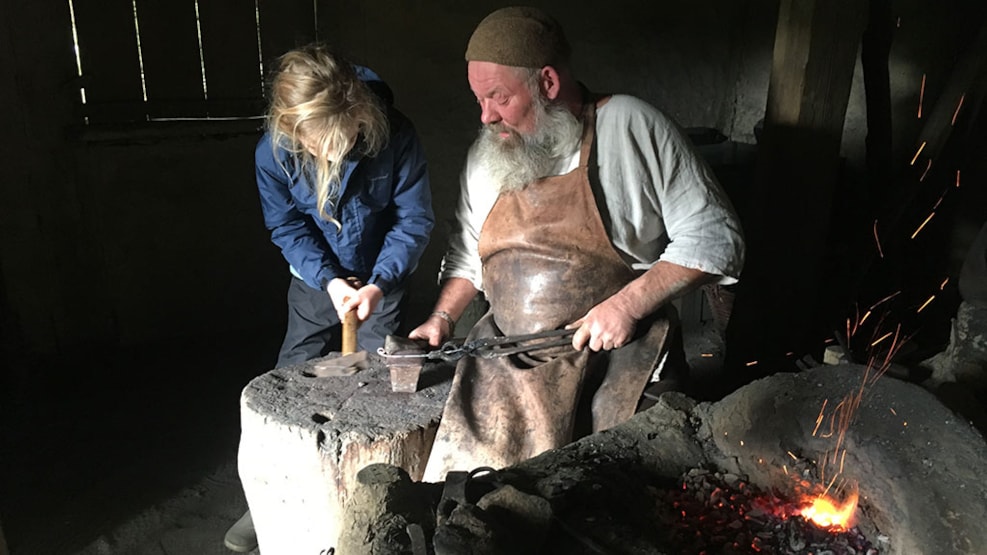 Winter Break at the Iron Age Village
In ancient times, winter was the time of year when making and repairing tools, clothes and household utensils was high on the list of daily chores.
The matriarch has sought shelter and light by the fireside during this time, practising her gastronomic craft while experimenting with new ways to prepare old recipes. Visit her in her kitchen and be inspired to create modern food from ancient Nordic cuisine. Every day you can bake a flatbread and enjoy a warm winter drink by the fire with the help of the lady of the long house. You can meet her on 11, 15, 16 and 17 February.

The blacksmith has sought shelter by the forge and needs to train new thralls to operate the bellows. Send your kids to the forge with him, where they can forge a costume- or hairpin. You can meet the blacksmith on 11, 14, 16, 17 and 19 February.

Every Sunday, the leather workshop is open. You can make your own little leather wallet to store your household money, secret treasures or love letters.
On Mondays, winter is given a little extra colour when the summer colour palette is experimented with on the sheep's wool in search of that exquisite purple.