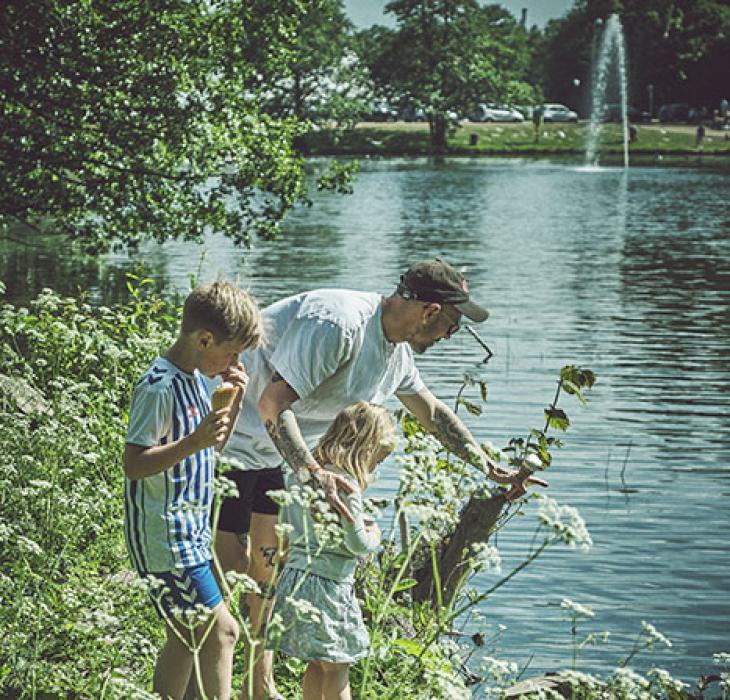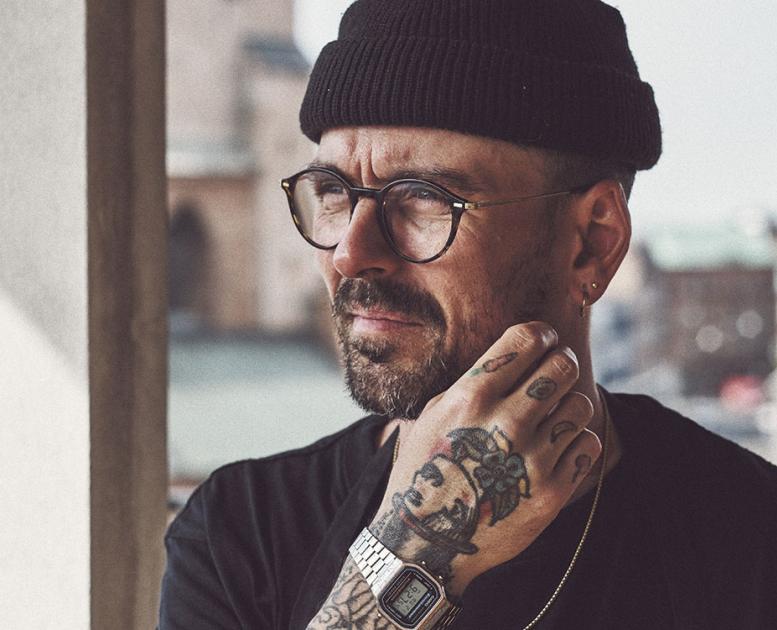 Mads Herskind - dedicated foodie
Photo:
Rico Feldfoss
&
Rico Feldfoss
Odense is present, metropolitan and authentic
Who is Mads Frank Herskind?
38 years old
Born and raised on Zealand
Moved to Odense from Copenhagen in 2014
Lives on Vesterbro in Odense C
Married and father of three children aged 4, 9 and 14
Present, metropolitan and authentic
That's Odense according to Mads Frank Herskind, a chef and culinary entrepreneur in Odense Municipality. But where are his personal favourite places in the city? Get inspiration here.
Family friendly culture
With three children, I have to recommend Møntergården, because it's a super cool museum in Odense's historic city centre. The old town in Møntergården is especially interesting, as you can experience how families of the time lived in an apartment the size of our own living room. You can also dress up, walk on stilts, build with saws and planes in the carpenter's workshop and pump water from the well. Kids can pick, pick and pick at everything, and it's both exciting and informative.
I also have to mention the sensory exhibitions at Kunstmuseum Brandts, which are always really cool experiences for children. When we as a family are saturated with indoor culture, we spend a lot of time hanging out at the amphitheatre right next to the museum. Especially in the summer, we use the space for playing, but we're also there when there's entertainment on stage with dance, ballet and music.
Authentic and creative dining experiences
Café Sølle in Nedergade helps to support the fact that Odense can do what Copenhagen can do. Without it overflowing in superficiality. The place just has something very special in this authentic and attentive environment. You walk in and always get a smile from the owners, good coffee and decent food made from good ingredients. Food that is more modern than the classic café food.
The creative food market Storms Pakhus is a great place for families with children. But for a chef like me, it's also a fun place to visit in Odense, and it's almost become an institution in itself. They have a wide variety of food, from homemade pita bread to fat-dripping duck fries, and they also have many versatile events, from a second-hand market to a children's bingo. So those of us with children can easily pass the time in the warehouse.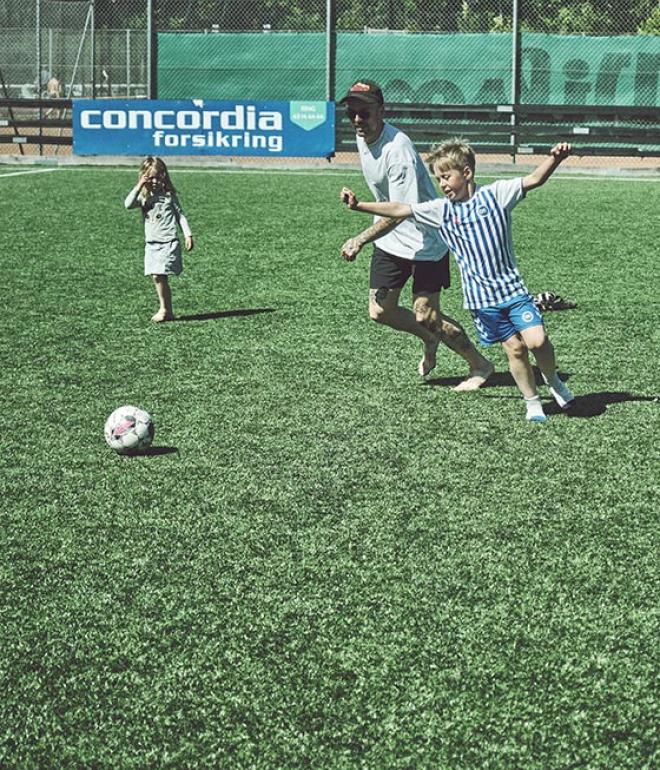 Photo: Rico Feldfoss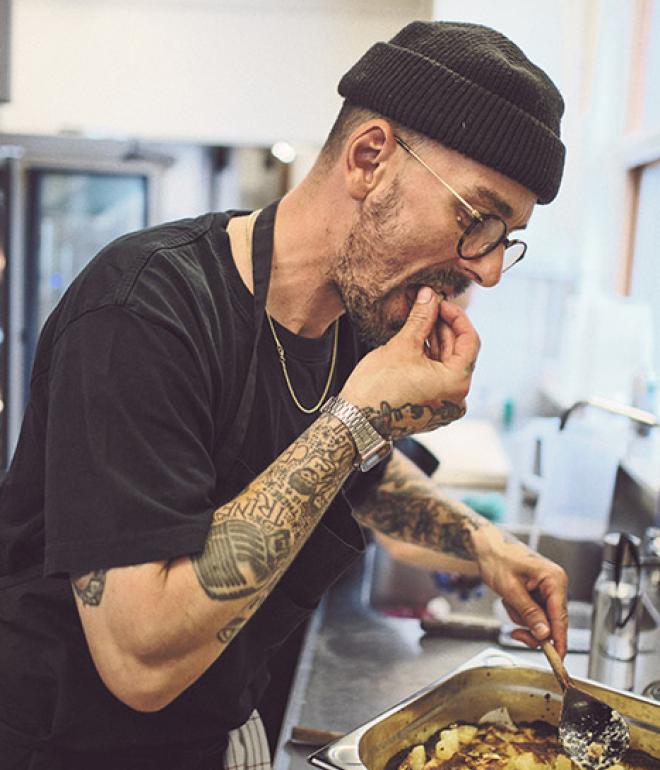 Photo: Rico Feldfoss
Our green sanctuaries
I spend many hours playing football with my son on the artificial turf pitch Sydbank Arena Ådalen by the river Odense Å. It's the pitch facing the ring road on Tietgens Allé, and there are probably many people who don't know about the beautifully landscaped artificial turf pitch that everyone can use. And then the bike ride out along the river past Munkemose and Odense Football Club's facilities is just really cosy.we also spend many hours at the train playground at Fruens Bøge. It's the playground where the trains whizz by right next to it, so every time the trains come, all the kids run over and watch. But the whole area around Fruens Bøge is lovely: the forest lake, the rippling stream and the large forest area. It's great to experience with the kids because we can build caves, play on the exercise equipment by the lake and enjoy the greenery.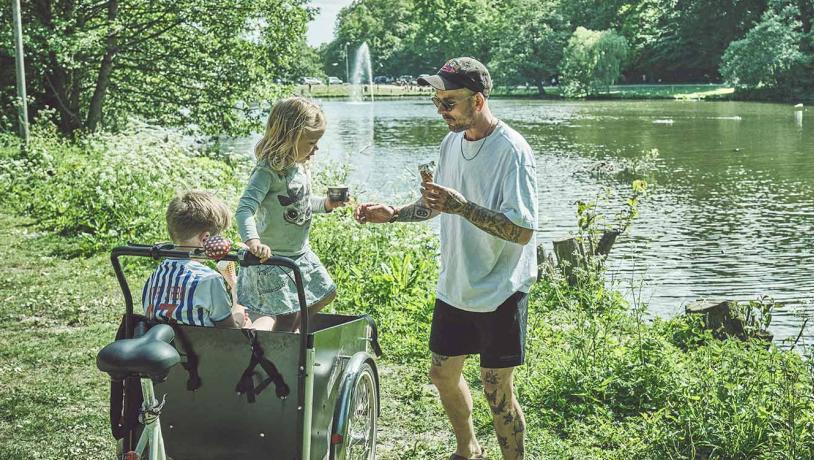 Photo:Rico Feldfoss
When shopping becomes an experience
The only real bottleshop in Odense is Din øl in the Skibhus neighbourhood, where you can buy beer from both Danish and foreign microbreweries. It's the coolest shop in the world for me, who just loves beer. And it's a great experience to come in and taste something completely insane and different. Something that just tastes good.
The Farmer's Market in the old town every Wednesday and Saturday is a great experience for a chef like me, and it's a super inspiring place to visit. Here you can find delicacies such as fruit, vegetables, fish, cheeses, olive oil and flowers, and it's a place that everyone should visit. Here you can really talk about presence and authenticity. This place should never disappear from Odense.
Perhaps you would also like to meet