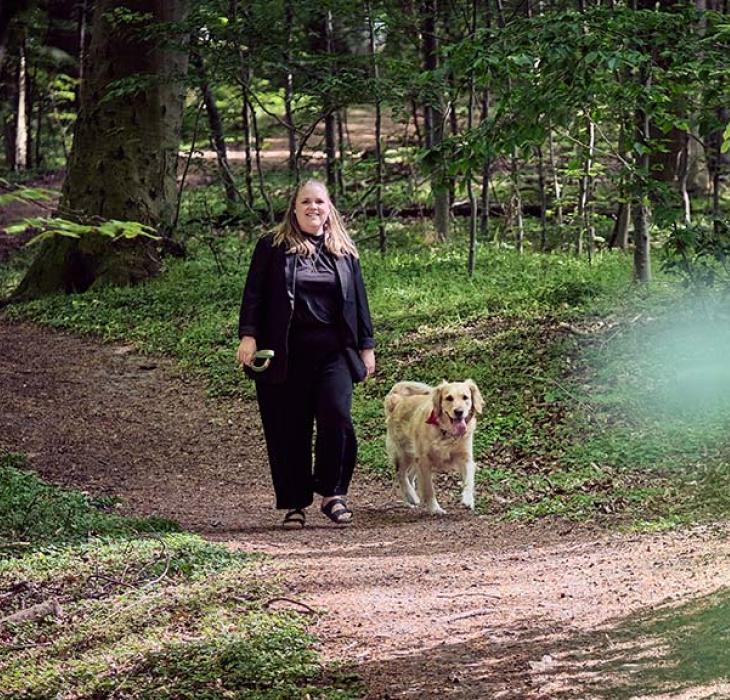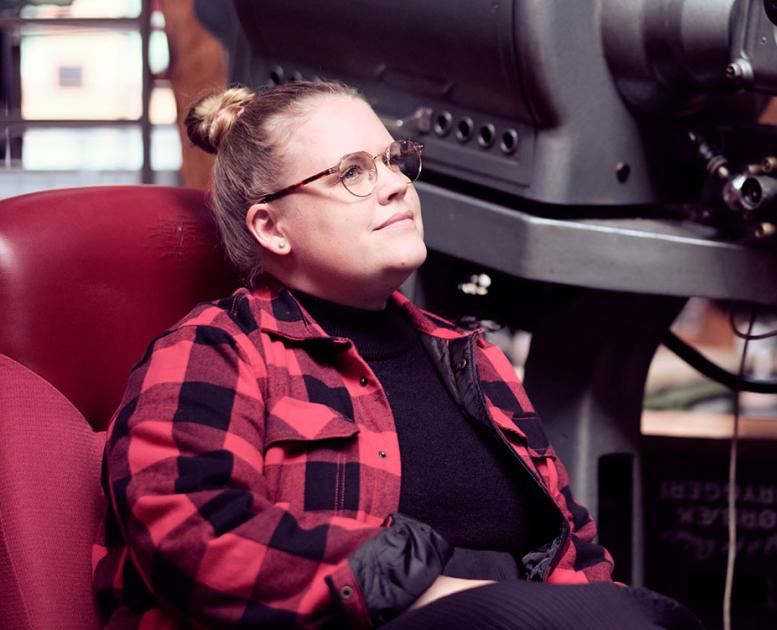 Helene Ottosen
Photo:
Rico Feldfoss
&
Rico Feldfoss
Filled with local heroes and a passionate city
Who is Helene Marie Ottosen
35 years old
Born and raised on Funen
Lives in Odense C
Married and mum to two children aged 1 and 3
Filled with local heroes and a passionate city
That's Odense according to Helene Marie Ottosen, Warehouse Manager at Storms Pakhus - Funen's largest street food market. But where are her personal favourite places? Get inspiration here.
Festival enthusiasm
Magic Days, a fantasy festival filled with adventure and magic, takes place every October. The magic is that the festival invites everyone to play, so it's filled with both children and adults running around in capes, wizard hats and wands. Everyone has surrendered to the universe and it's really special to see children and adults playing together. There are also activities scattered throughout the city, where you can fight trolls in the fairytale garden and cast spells and potions.
Now Odense is also on the map with one of Denmark's biggest festivals - Tinderbox in Tusindårsskoven with big musical stars. It's an event where I feel like the whole city has come together for a huge party, and then it's just filled with glitter, music, festival atmosphere, sun and cold draft beer - it's delicious and magnificent. And with my background as a warehouse manager, it's always my mission to taste my way through as many food stalls as I can possibly get to in the three days.
Michelin and a southern atmosphere
Restaurant ARO, which has just received a Michelin award, is a group of talented people who have transformed an old workshop in Østerbro into a sublime gourmet restaurant. Their starting point is Nordic ingredients with hints of the French, and then it's just food that screams that it was made by cool people. The staff are smiling and attentive, and you always feel welcome and at home.
There's also a semi-open kitchen where the atmosphere oozes with good karma.
A brand new place is the pop-up bar Hey Lola at Odense Harbour, which has taken the vibe from similar bars in the Mediterranean. It's a small place with a terrace right on the harbour, with string lights, white plastic chairs, and it's raw, urban and unpolished. It's a great place to hang out, socialise and eat snacks and nibbles.
Green oasis in the city
We love going to Stige Ø with the family because there's so much space to run around, but we also love the troll hunt between Skibhuskvarteret and Stige Ø. The address is secret and you can't actually see it anywhere, but the hunt is definitely worth the adventure. It's also a pretty exciting walk through the reef and scrub to the troll's "Hans Hule Hånd", as it's aptly named.
Åløkkeskoven is a sanctuary for me and is right in my backyard. It's a place where I take the dog and pram for a walk and get some peace of mind. It's unique to have such a beautiful forest so close to the city centre. There's always a lot of wildlife with deer, squirrels and sheep that you can walk into. There's also a playground inside the forest, and at Halloween, the city's children's centres carve pumpkins and place them on the paths. It's a beautiful sight, and it looks pretty wild with hundreds of pumpkins lit up in the dark.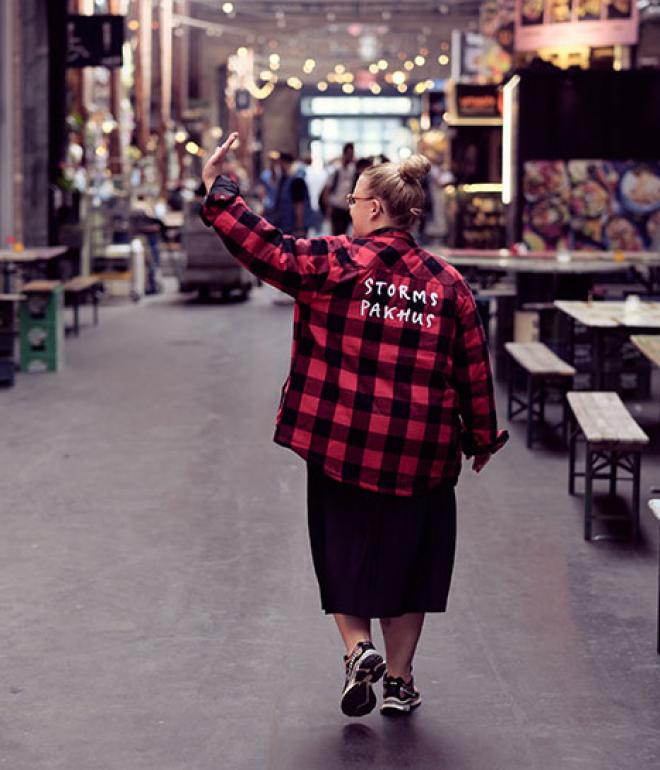 Photo: Rico Feldfoss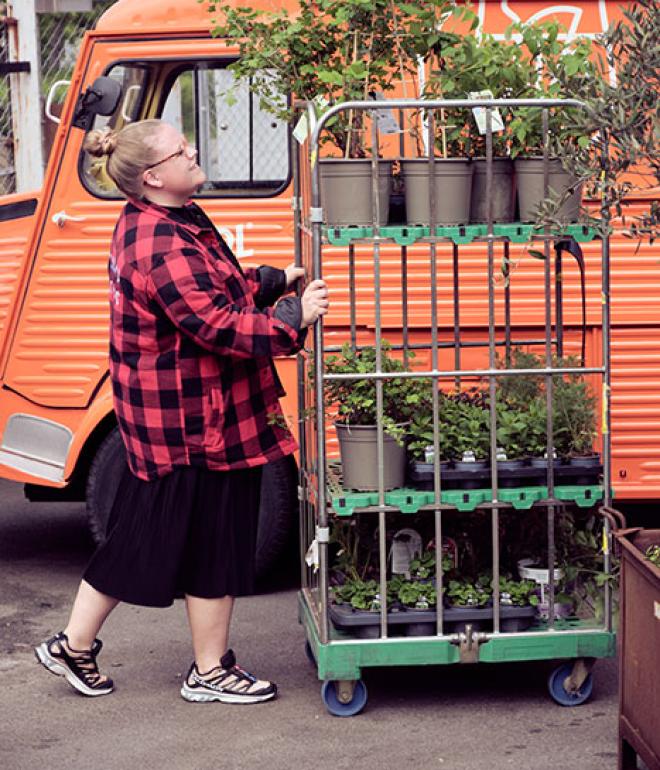 Photo: Rico Feldfoss
Shopping in colourful universes
An absolutely wonderful shop for children and adults is All about Kids. Here you can feel the passion of the staff and it's a shop with clothes and toys that just welcomes you. There's a nice and large breastfeeding room, a changing area, a slide and a play kitchen inside the store. So there's space, room and permission for the kids to be there. And then there are several secret buttons you can press. In the window, you can press a button that starts a car track, and inside the store you can start a train that runs on the ceiling. It's quite a nice universe.
Fabrek is an inspiring and very colourful interior shop with a careful selection of ceramics, posters, textiles, jewellery and accessories. There are also a few selected pieces of clothing and nice things like that. It's a shop I never enter without leaving with something. I know I can always find that beautiful dress or that nice hostess gift. In fact, the whole universe they've created - both in-store and online - is just really cool.
Perhaps you would also like to meet